Governor of Bauchi State, Muhammad Abdullahi Abubakar, has launched the distribution of 200 Farm to Market Tricycles to Internally Displaced Persons (IDPs) in the state.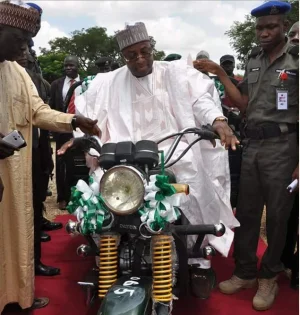 The programme, which was powered by the Federal Government under the office of the Secretary to the Government of the Federation, took place at the Abubakar Umar State Secretariat, Bauchi.
Speaking at the event, Alh. Muhammad Lawal Tahir, Director of Parastatals, office of the SGF, who is also representing the SGF noted that initially, Bauchi State was not among the states to benefit from the programme, but due to the exceptional effort made by the governor, the state was later included.
In his remarks, Governor Abubakar enunciated his appreciating to the Federal Government for its concern and also to the Office of the Secretary to the Government of the Federation for spearheading the distribution of the items.
The Governor stated that by distributing the 200 units of tricycles to IDPs in the state, it further demonstrates his government's commitment to improving the well-being of the displaced persons.
Last edited: