As Bayelsans go to the polls tomorrow, here are some basic facts you need to know about the candidate for the PDP governorship election in the state. He is also re-contesting for the office of the Governor in the state as the incumbent governor.
1. Henry Seriake Dickson (born 28 January 1966) in Toru-Orua Town of Sagbama Local Government Area of Bayelsa State, Nigeria.
2. He assumed his role as the Governor of Bayelsa State in southern Nigeria on 14 February 2012.
3. He was a member of the House of Representatives from 2007 until 2012.
Protest Will Continue Until Okorocha, Ekweremadu Emerges As President in 2019 – Ohanaeze Youths
4. Dickson assumed his role as Governor of Bayelsa State on 14 February 2012. The Independent National Electoral Commission reported that Henry Dickson won over 90% of the votes.[5] They went on to say that this helped in "further strengthening the PDP's stranglehold on power there since Jonathan became president."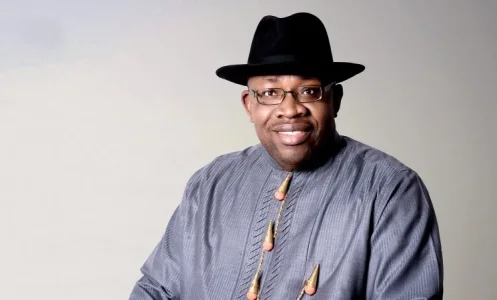 5 Hon. H.S. Dickson joined The Nigeria Police Force now The Nigeria Police, 1986 in service to his father land and upon his graduation in 1993 was appointed a Cadet Assistant Superintended of Police in 1994 whereupon he proceeded to Nigerian Police Academy Kano for Officer Training. During the course of his training, he voluntarily withdrew his service after close to a decade as a Police Officer to practice the profession of law.
6. As a Lawyer, he worked with SERENA DAVID DOKUBO & CO holding the position of Associate Solicitor from 1994 to 1995 and moved to ALUKO & OYEBODE, a prominent Law firm in Lagos also as an Associate Solicitor in 1995 to 1996 after which he founded the Law firm of SERIAKE DICKSON & CO in Port Harcourt and later Yenagoa and became its Managing Solicitor from 1996 to 2006. Politically and Professionally.
INEC Office in Kogi Burnt Down
7. Hon. H.S. Dickson has held many positions some of these are mentioned below: He was elected Pioneer Publicity Secretary, Nigeria Bar Association (NBA) Yenagoa from 1996 to 1998. He was elected the State Chairman, Alliance for Democracy (AD) 1990 to 2000 and elected National Legal Adviser, Alliance for Democracy 2000 to 2002. He was equally elected National Legal Adviser of the foremost Pan-Ijaw Socio-Cultural and Political group called the Ijaw National Congress (INC) 2001 to 2003. He became a Member of the National Executive Committee (NEC) Nigeria Bar Association in 2004 to 2006 representing Bayelsa State. Considering his track record and achievement, Hon. Dickson was Appointed the Honourable Attorney-General and Commissioner for Justice of Bayelsa State from 2006 to 2007 by His Excellency, Dr. Goodluck Ebele Jonathan GCON, the ex-President of the Federal Republic of Nigeria who at the time the Governor of Bayelsa State
8. Hon. H. S. Dickson is a Member of the Nigeria Bar Association, International Bar Association, Chartered Institute of Arbitrators (U.K) Nigerian Chapter and a Member of the Chartered Institute of Taxation of Nigeria.
9. Shortly after taking over gubernatorial duties, Dickson said that he was "painfully transiting to the executive arm of government." He went on to say that he might, in fact, return to the National Assembly someday.