Less than one month to the December 5th Gubernatorial elections in Bayelsa State, aspirants from various political parties have converged to sign a peace accord, to ensure peaceful and credible poll,
ChannelsTV
reports.
The signing of the peace pact which was initiated by the Independent National Electoral Commission (INEC), in collaboration with United Nations Development Program (UNDP), had heads of security agencies, traditional and religious leaders in attendance.
The Resident Electoral Commissioner in the state, Baritor Kpagi, said that information available to INEC suggested that a number of cloned cards were in circulation in the state, and such cards would not be verified by the smart card reader.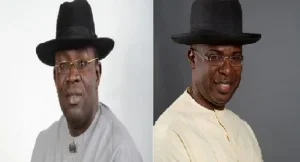 The INEC National Commissioner representing the North West Zone, Mrs Amina Zakari, in her address, explained that election is a beautiful experience, especially when it is devoid of violence.
Also speaking, an official of UNDP, Mr Matthew Aloa, explained that signing of the peace accord connotes that INEC and the security agents would do everything humanly possible to ensure stakeholders' confidence in the electoral process.
The Bayelsa State Commissioner of Police, Nasiru Oki, also advised aspirants to take the message of the peace accord back to their supporters.
The flag bearer of the All Progressives Congress (APC), Timipre Sylva, reiterated his commitment to abide by the term of agreement, as stipulated in the peace document.
The incumbent Governor, Seriake Dickson, also advocated for stringent punishment for electoral offenders.
The United States (US) on Tuesday had warned against any plan to foment violence before, during and after the Kogi and Bayelsa States governorship elections.
According to a statement by the United States Diplomatic Mission to Nigeria, the US urged Nigerians to refrain from any action capable of upsetting the peace of the nation or the two states involved in the exercise.