Chief Executive Officer of Beat FM, Chris Ubosi and his company, Megalectrics, have filed a suit against Rihanna and Jay Z over a 2013 concert that never happened.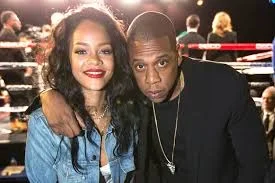 Ubosi says he struck a deal with 2 people who claimed to represent Rihanna, as well as her label Roc Nation and Jay Z. Rihanna would get $425,000 to play for 65 minutes.
The show was supposed to go down in May — and Ubosi says he made 3 payments, totaling $160 thousand but then Rihanna's camp asked to postpone the show.
Ubosi says he agreed, but only if Rihanna posted the new date on social media.
In the suit, he said that never happened so Megalectrics pulled the plug, and demanded its money back.
Since Ubosi didn't get the cash, he's suing Rihanna, Jay Z and Roc Nation for the cash he paid.
Sources close to Rihanna tell us her management knew nothing about the gig and the singer never collected a dime.
They believe Ubosi is a victim of a scam.
Source: NL