Crown Prince of Benin Kingdom and Ediaken of Uselu, HRH, (Amb) Eheneden Erediauwa, coronation programmes officially begins on October 8th, with a foot procession from the Uselu palace ground.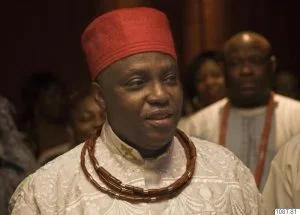 Chairman, Coronation Planning Committee and Enogie of Evbuobanosa/Abudu, Prof Gregory Akenzua, at a press briefing yesterday in Benin City, said the coronation programme which begins tomorrow 8th October will climax with a 'thanksgiving worship' service on Sunday at the Holy Aruosa cathedral.
He said during the coronation ceremonies, starting from when the Edaiken leaves the Uselu Palace today," the use of coral beads by those who are normally entitled will be restored and (secondly)the current use of " Omo N Orhue" (White Beads) will be discontinued."
Akenzua added that, (thirdly) all burial ceremonies are prohibited throughout the period of the coronation with effect from October 8th, through 27th October.
He noted that, " (fourthly) From mid-night today, all Commercial activities around Eko-Ohae and Urho-Okpota should cease until further notice."