The paramount ruler of Tiv people in Benue State, the Tor Tiv, Dr. Alfred Akawe Torkula is dead.
Alfred Akawe Torkula before his death was the chairman of the Benue Traditional Council and the Paramount Ruler of the Tiv, the Tor Tiv.
The late Tor-Tiv was born on July 10, 1944 in what is today known as Mbadwem district of Guma local government area of Benue State.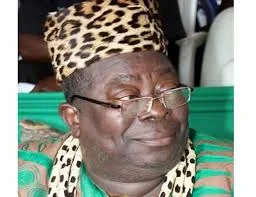 Samuel Ortom, Governor of Benue state, has confirmed the death of Alfred Akawe Torkula, chairman of the state traditional council and the paramount ruler of the Tiv kingdom. In a chat with NAN on Tuesday, Ortom said he had condoled with the family of the monarch who was installed as the fourth Tor Tiv in April 1991. Ortom said members of the Tiv traditonal council were on their way to the government house for proper briefing and the handover of the staff of office, which was previously held by the former king. He said details of the burial plans would be announced later.