A foremost Ijaw leader and convener of Pan Niger Delta Forum, PANDEF, Chief Edwin Clark has called for the arrest and detention of the leader of the Indigenous People of Biafra, Nnamdi Kanu for declaring there will be no election in Anambra state.
The elder statesman also outlined areas Igbos are being marginalised by the current administration.
Clark pointed out that before the All Progressives Congress, APC's administration, the Igbos have enjoyed and served in key positions in Nigeria.
He said Kanu and his followers must be told the truth before they throw the nation into choas, adding that this group of people did not witness the civil war.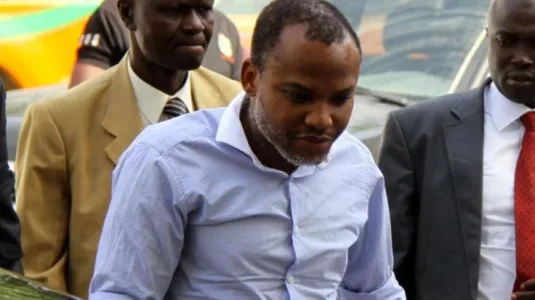 Clark told Vanguard, "I think Nigeria is one country, we cannot break up. My advice to those beating the drum of secession is to take it easy. The war of 1967 to 1970 claimed so many lives and property, made some Nigerians to almost become second class citizens in their own country.
"These boys who are going around, and led by Nnamdi Kanu, some of them were not born at that time, and if they were born, they were very little children. I agree that President Buhari's government has marginalized them".