Supporters of the Biafra movement among the Niger Delta ex-militants have given President Mohammadu Buhari led federal government 31-day deadline to free the leader of the group and Director of Radio Biafra, Nnamdi Kanu, or face the consequences.
Also, the former warlords warned security agencies against tampering with the life of the IPOB leader, who is detained at Kuje Prison. Spokesperson of the concerned ex-militants, simply identified as General Ben, warned that at the expiration of the ultimatum, they would resume massive abduction of expatriates as a first step.
The spokesperson declared that Federal Government should not underrate the activities of the militants in the Niger Delta, no matter the number of soldiers deployed against them.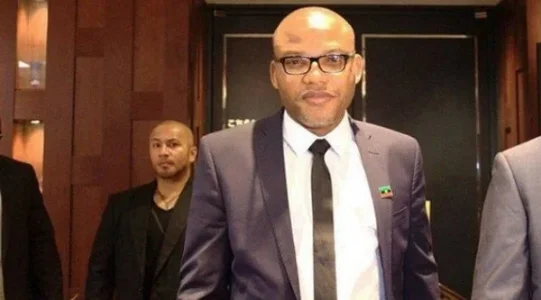 He fumed: "The ex-militant leaders in Ebeocha IPOB are warning the Federal Government and are giving them 31 days to release Nnamdi Kanu, the leader of IPOB and Director of Radio Biafra.
"We are giving Federal Government deadline; if they fail to release him, the country would be vandalised. He is fighting a just cause. Nothing should happen to him and Federal Government should not forget what we can do," he threatened.
Source: Sun Newspaper