Movement for the Actualization of Sovereign State of Biafra, MASSOB and Biafra Independent Movement, BIM, yesterday accused the Anambra State police command of killing about 20 of its members secretly.
The Regional Administrator, Anambra West, Mr. Wilfred Aninze, made the accusation and challenge them to debunk the allegation.
According to him, "the secret killing came to the limelight when one of our members, Okechukwu Joseph, was reported missing by his wife.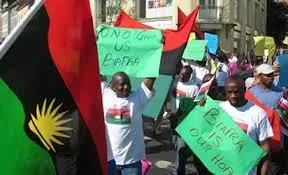 "Early this year, 10 of our members were declared missing and from the report we got, they were secretly arrested and killed by the Police without the knowledge of our members".
"We learnt that the police topshot in the country had a meeting with all the State Commissioners of Police, and in the meeting, it was resolved that MASSOB/BIM members would be secretly caught and killed.
The Regional Administrator stated that "we will not continue to keep our hands akimbo and watch our members being killed without committing any offence. "We are a non violent organization fighting for a sovereign state of Biafra."