The Director General of the Voice of Nigeria, Osita Okechukwu, has said the actualisation of the Republic of Biafra is no longer feasible.
He therefore requested ethnic Igbos to call the agitators to order, do a rethink and support President Muhammadu Buhari "in constructing a prosperous and progressive Nigeria".
According to him, with the unwritten zoning convention for the rotation of political power in the country, the Igbo race in the South East zone would likely produce President Muhammadu Buhari's successor in 2023.
Mr. Okechukwu spoke on Wednesday in Abuja at a colloquium organized by the Federal Capital Territory Chapter of the Igbo socio-cultural organization, Ohaneze Ndigbo.
Mr. Okechukwu said the greatest indication that Biafra was impossible to actualise, was the successive national conferences in the country where the five Igbo states voted against regionalism.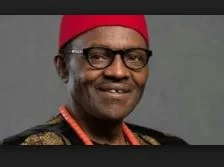 "If we must tell ourselves the truth, the greatest obstacle to the actualisation of Biafra, was glaringly demonstrated by successive national conferences, the Abacha Conference and Jonathan Conference, in each of the two conferences the issue of region was voted against by Enugu and Ebonyi states," he said.
"The Jonathan Conference of 2014, for instance was made up of pro-Biafra elements whom a lot had assumed will support regionalism as a prelude to secession. Other states like Ogun, Lagos, Bayelsa, Cross River and majority of Northern States rejected regionalism. To cap it all the Jonathan Conference recommended the creation of over 50 states."
Mr. Okechukwu said Biafra agitators must sample the opinion of the people, both at home and abroad, especially the itinerant travelers if their agitation was for collective benefit.