The Movement for the Actialization of the Sovereign State of Biafra (MASSOB) and Biafra Independent Movement (BIM) yesterday faulted President Muhammadu Buhari for recognising only the South-East geo-political zone as states canvasing Biafra's independence.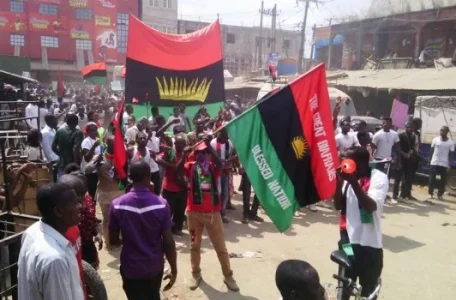 While the group said it was a good omen in the first instance for the President to acknowledge that Biafra had become a household name in the east, they disagreed that Delta, Rivers, Akwa-Ibom, Edo, Bayelsa and Cross- River were missing out.
The groups said the Federal Government goofed by forgetting that the five eastern states, namely, Anambra, Abia, Enugu, Imo and Ebonyi, were neatly knitted with their neighbouring South South zone in the old Eastern region.
The newly appointed MASSOB leader in Delta state, Chinedu Amaifeobu supported by the Zonal Commander of Security, Ignatius Adili-Ajana, in Asaba yesterday said the South East and the South- South states were abinitio tied by the same umbilical cord.
According to him, the two geo-political zones were bonded by the same cultural, spiritual, moral and religious heritage, hence, the government of Nigeria would not hound them out of Biafra. He said: "We urge our South-South brothers and sisters not to be deluded by the divide and rule antics of the Nigerian government but remember the sons and daughters of whom they are."