Fight broke out between policemen and some people suspected to be members of the Movement for the Sovereign State of Biafra (MASSOB) in Asaba on Monday.
The News Agency of Nigeria (NAN) learnt that the incident occurred along Anwai Road in the city when MASSOB members were marching to demand for the independence of Biafra.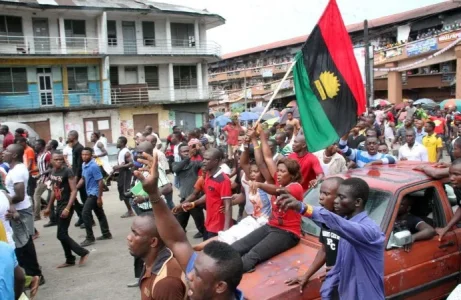 Witnesses said some persons, including policemen, injured in the fracas, were taken to the Federal Medical Centre, Asaba.
A nurse at the FMC, who pleaded anonymity, confirmed to NAN that some of the injured were brought to the hospital.
An eyewitness, Mr Uche Okelue, told NAN that the fracas broke out after a police team threw teargas at the marchers in an effort to disperse them.
"The police used teargas on the MASSOB people as they were protesting along Anwai Road this morning, so the people got angry and attacked the policemen with knives and broken bottles.
"They caught one policeman, beat him up before stabbing him to death; it was a fierce confrontation as everyone ran in different directions," Okelue said.