Leader of Biafra Independent Movement, BIM, Chief Ralph Uwazuruike has appointed a Catholic Priest, Rev. Fr. Samuel Aniebonam as Chairman of Biafra Independent National Electoral Commission, B-INEC.
Making the announcement at Ojukwu Memorial Library, Owerri, Imo State, Uwazuruike explained that the measure was in line with BIM's principle of non-violence towards establishing a sovereign control over the territorial boarders of the new Biafra.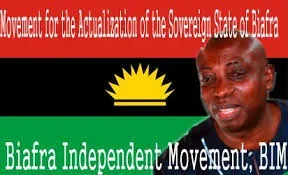 A statement issued in Onitsha, Anambra by the newly promoted Biafra Director of Information, Chris Mocha, quoted Uwazuruike as stating that Fr. Aniebonam and his team of other members of B-INEC would conduct and supervise the internal election in all the offices of BIM on February 22, 2016.
- Dailypost