Two legal giants based in Onitsha, Anambra state, Ben Okoko, chairman of Idemili branch of Nigerian Bar Association, NBA and Chris Adimora, chairman of Anaocha branch of NBA have vehemently condemned the denial of bail to the leader of Indigenous People of Biafra, IPOB, Nnamdi Kanu.
They said that as far as they were concerned, Kanu did not commit any offence against any known Nigerian law to have warranted his bail denial and continued detention in the prison custody.
According to Adimora who spoke in a interview with newsmen in his office, yesterday, "the reasons adduced by the prosecution for refusing Kanu bail is not tenable. He did not commit any offence by having dual citizenship. He can't be refused bail because his charges are still mere allegation which are not yet proven". "As far as I know, he continued, Kanu did not commit any offence. They were just fishing for evidence to keep him in jail until they came up with this trump up charge of treasonable felony".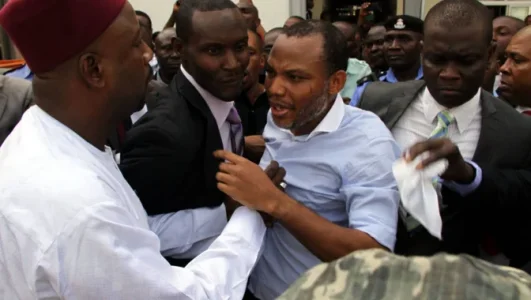 "That he opened a radio station in a British air wave is not an offence in Nigeria. That he called President Muhammadu Buhari names does not amount to treasonable felon but mere agitation. He is only expressing and speaking the minds of millions of marginalized Biafrans and that does not amount to treasonable felony as the court states", he stated further.
- Vanguard