The President of Igbo Youth Congress (IYC), Mr Bright Ezeocha, says he is afraid that the use of violence against pro-Biafra protesters by the government might give rise to the creation of a terrorist group in the manner of Boko Haram in the East.
Ezeocha said this in an interview with the Tribune in Lagos when reacting to the alleged killing of some members of the Indigenous People of Biafra (IPOB) by security agents on Wednesday.
Ezeocha said he had urged the Federal Government to handle the issue with care by dialoguing with the people to avoid a repeat of history.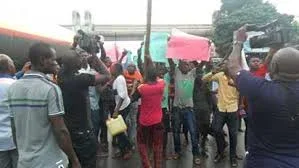 He alleged that what led to the creation of the dreaded Boko Haram terrorist group was the killing of one of their leader, Muhammad Yusuf. He, therefore, raised the fear that the Federal Government was already towing this line again.
"I want to condemn the killing of the members of the Indigenous People of Biafra (IPOB). It is uncalled for, and never expected in the 21st century that the law enforcement agencies do not know how to disperse protesters except to open bullet on unarmed protesters," he said.