The Nigerian Civil Aviation Authority (NCAA) said the air return made by a Qatar Airways aircraft on Feb. 9 at the Murtala Muhammed International Airport, Lagos, was caused by a bird strike on one of its engines.
The NCAA made the clarification in a statement signed by its General Manager, Public Relations, Mr Sam Adurogboye and obtained by the News Agency of Nigeria (NAN) in Lagos on Sunday.
"The Qatar Airways Airbus A330 with Registration no.A7 – AED, Flight no.1408 scheduled operation from Lagos to Doha ,received a push back to take off from the MMIA at 14.45hrs UTC.
"On board were 256 passengers and 10 Crew members.
"At 16.18hrs UTC, the Pilot-in-Command (PIC) made an air return to MMIA. He took this decision after the aircraft suffered bird strike in flight.
"The bird strike hit the No.1 Engine. On its safe return to MMIA, diligent inspection was carried out on the aircraft. However, finding disclosed no damage," Adurogboye said.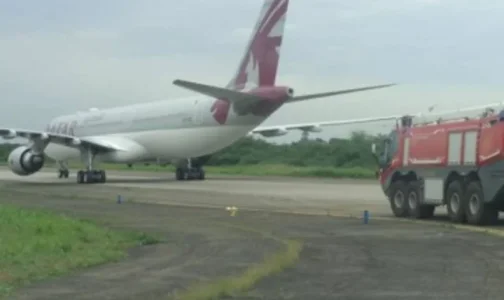 He said since there was no damage, the aircraft was cleared and it recommenced the operation and departed at 17.30hrs UTC.
According to him, it is pertinent to point out that the Aircraft Pilot adhered to the Standard and Recommended Practices (SARPs) in undertaking an air return.
Adurogboye said this was to carry out an assessment of the impact of the bird strike before continuing the flight.
"The NCAA wishes to assure Nigerians that it will continue to ensure robust safety oversight of the industry for safe and secure air transportation," he added