Chief Bode George is a former deputy chairman and member, Board of Trustees of the People's Democratic Party (PDP) has described the recent Appeal Court judgment which reaffirmed Senator Ali Modu Sheriff as the National Chairman of the party as a setback to democracy.
Chief George in an interview with Dailytrust newspaper said he was shocked at the judgement and may rather stay back at home as a commentator than joining Sheriff's faction
"I was shocked. To use the word shock is the minimum I could say. It is worse than being shocked. My immediate conclusion was that this is the voice of Jacob and the hand of Esau.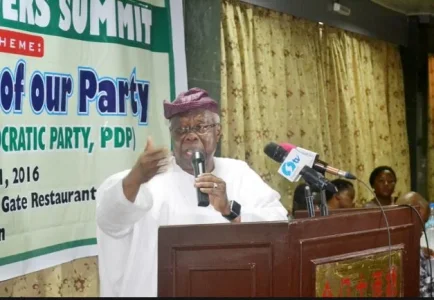 When asked if PDP is beyond redemption?, the Board member said: "I wish them the best of luck, I will never be part of that. I can't be A today, B tomorrow. Stand fast on your mind, flip-floppers don't achieve anything. That is not the concept for which those old babas established this party. If anybody wants to join Sheriff, you know it is a voluntary thing. I will remain a public commentator.
"I will sit in my house. You can still be a member. By the time the dust is settled, we know where they are going".
Read More:
DailyTrust