The Borno state Governor, Kashim Shettima has visited Gwoza Local Government Area where he promised that the ongoing reconstruction and rehabilitation of residential houses and public structures destroyed by Boko Haram insurgents will be completed by December this year.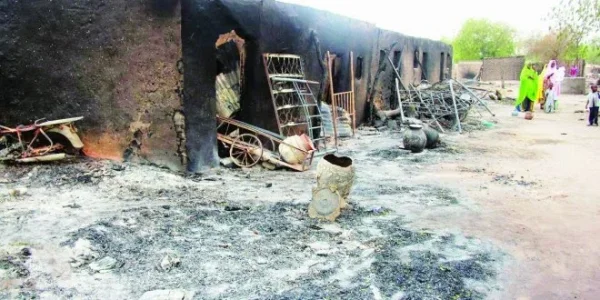 He stated this at the palace of the Emir of Gwoza, Alhaji Mohammed Idrissa Timta while addressing thousands of the people who have since returned home including traditional rulers and religious leaders.
Gwoza is second to Bama local government area as regards places that suffered the same fate of destruction before it was declared as Boko Haram Caliphate in August, 2014.
"I want to sympathize with you over the unfortunate calamities perpetrated by Boko Haram in recent past, we are here to tell you that as government, we will do everything possible to rebuild all your destroyed houses brick by brick.
"We have also come with assorted food items including 1500 bags of 25kg rice, 1500 bags of beans, 1000 cartoons of spaghetti, sugar, salt among other relief items.
"I urge some of the IDPs from Gwoza who are still residing in resettlement camps in Maiduguri and other places to please come back and join you, because, there is no any good place than home." The governor said.