The Abuja Division of the Federal High Court has fixed February 4 to hear a fresh suit lodged against the Federal Government by the convicted kingpin of the Boko Haram sect, Kabiru Umar. a.k.a. Kabiru Sokoto.
Meantime, Sokoto who earlier instituted N300 million suit against the government over alleged torture, yesterday, re-approached the high court, accusing the federal government of frustrating his efforts to get his conviction upturned at the Court of Appeal.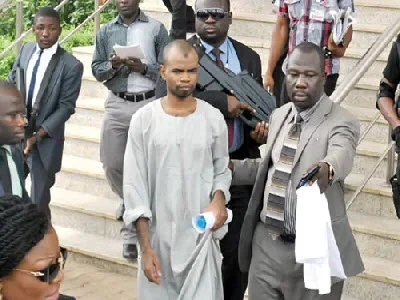 In a fresh motion on notice he filed through his lawyer, Mr. Sheriff Okoh, Sokoto further alleged that the Comptroller of Prisons and his men have made it impossible for him to have access to his lawyer, to enable him perfect his appeal process.
You can READ:

Kabiru Sokoto Lashes out at Federal Govt of Nigeria
The High Court had on December 20, 2013, convicted and sentenced Sokoto to life imprisonment after he was found guilty of masterminding the Christmas day bomb blast that killed about 44 persons and wounded 75 others at St. Theresa's Catholic Church at Madalla, Niger State, in 2011.
In his judgment, Justice Adeniyi Ademola said he was satisfied that the federal government successfully established the culpability of the convict beyond every reasonable doubt, noting that 'Sokoto' had in two separate confessional statements, admitted that he had prior knowledge of the attack.
The court noted that the accused person, throughout the trial, never showed any remorse for his actions, describing him as "a pathological liar with no regards for the truth."
- Vanguard