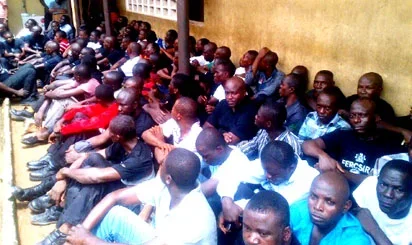 More than 200 suspected irregular immigrants were arrested in a week by the Nigeria Immigration Service, NIS, #Lagos State Command, says the Comptroller of Immigration in charge of the command, Julius Ogbu.
Premium Times reports that the NIS and other security agencies including the police had, in separate operations last week, made some arrests in a bid to prevent terrorists from attacking the state.
He rubbished rumours that the arrest focused on northern Nigerians resident in the state.
According to him, the suspects would be screened at the NIS detention centre to ascertain their nationalities, check their travel documents and purposes of visit, before deciding their fate.
The immigration chief said that the arrest was done randomly without knowing the actual identity of those involved.
He also said that the NIS notified embassies before embarking on the operation to enable them inform their nationals who had not regularised to go back to their countries to do so.
Mr. Ogbu did not say if any of the suspects was arrested with a weapon.
#BokoHaram #Lagos #PremiumTimes