The Emir of hunters in Borno, Mai-Gana Mai-Durma have pleaded with the military to allow them join in the war against insurgents in Sambisa forest.
The emir, who made the appeal in Maiduguri while addressing journalists, said the call became imperative because the hunters were familiar with the terrain at the dreaded forest, the hideout and operational base of the terrorists.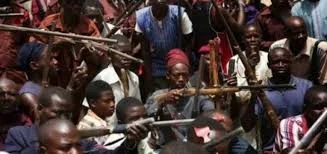 "We are appealing to the military authorities to allow us join the fight against Boko Haram at the Sambisa forest," he said. "We are ready to pursue the terrorists because we know the terrain very well."
He said that the military should align them with members of the vigilance group, popularly known as the Civilian JTF, for effective result. "We will overrun Sambisa in partnership with members of the civilian JTF if given the opportunity," he said.
"This will help to complement the effort of military in the anti terrorism operation."
- TheCable