Still smarting from the barren draw with Iran, Super Eagles Coach Stephen Kesh has waived off the challenges of Bosnia and Argentina saying that they are not unbeatable just as he said that he was not God to guarantee victory against the two remaining crack teams in Group F.
''Lets not give up hope. We all saw what happened in the match between Holland and Spain. Nobody expected that to happen. We also saw what happened between Germany and Portugal. That is football for you.
Anything can happen, so let us not rule out the possibility of beating Bosnia and Argentina and progress to the second round", he preached.
Click here to read more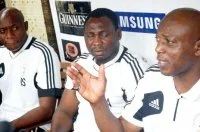 Source: #Vanguard Newspaper