Brazil's suspended President, Dilma Rousseff has described her impeachment trial as a "coup".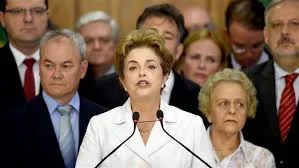 Rousseff is accused of having taken illegal state loans to patch budget holes. Testifying at the senate for the she called the accusations against her "a pretext for a constitutional coup", SKY NEWS reports.
"I've come to look your excellencies in the eye and to say that I did not commit a crime. I did not commit the crimes for which I have been accused unjustly and arbitrarily.
"I cannot help but taste the bitterness of injustice. But like I did in the past, I resist. Don't expect me to stay silent like a coward,'' she said.
A final impeachment vote which may last until Wednesday will determine Rousseff's political fate.