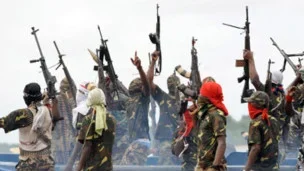 Even by the standards of terrorist fanatics,
the latest video message from Boko Haram's leader
was singularly disturbing. In one blood-curdling performance, Abubakar Shekau revelled in the carnage inflicted by two bomb attacks in Nigeria's capital, and mocked the global campaign to free 223 schoolgirls abducted by his followers exactly three months ago. "Bring back our girls?" he asks derisively. "Bring back our army!"
As we report today, Western diplomats privately believe there is no realistic prospect of the children being rescued or exchanged. When combined with the maniacal ravings of Shekau, that bleak appraisal highlights the gulf between the simple good intentions of a social media campaign and the harsh realities of northern Nigeria. What exactly is the meaning of the slogan #bringbackourgirls? Should Nigeria's government release hundreds of Boko Haram prisoners to secure the schoolgirls' freedom? Or should the army try a rescue mission, despite the immense risk to the lives of the captives, supposing they can be found at all? Or does the campaign aim to persuade Shekau to see the error of his ways and "bringbackourgirls" of his own volition? If anyone harbours that particular fantasy, a glance at his YouTube diatribes should set them right.
Click here to read more
Source: #Telegraph