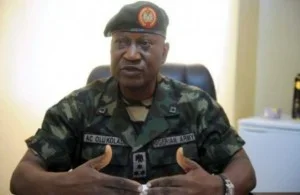 THE Army authorities, yesterday, in Lagos, said the Lance Corporal who was knocked down and killed by a BRT bus along Ikorodu Road last Friday, was not riding motorbike on the BRT lane as widely reported.
Rather, the deceased, according to the Army, was crushed to death on the normal lane plied by other motorists, maintaining also that soldiers were not responsible for the damage done to BRT buses but hoodlums who hijacked the situation.
This is just as the Nigerian Army has taken a swipe at Nobel laureate, Prof. Wole Soyinka, over a statement credited to him describing the Army as 'mad,' while reacting to the incident at a public function last week.
Click here to read more
Source: #Vanguard