Nigeria's Minister of Budget and National Planning, Udoma Udo Udoma, on Monday disgraced the President Muhammadu Buhari-led federal government when he was asked about country's total debt profile.
The disgrace occurred when the question was posed at him during the 22nd Nigerian Economic Summit holding place in Abuja.
Zain Asher, a CNN Anchor, during a panel discussion asked Minister of Budget, Udoma to divulge the specific figure of Nigeria's debt profile.
"How much is Nigeria's total debt?" Asher asked the minister.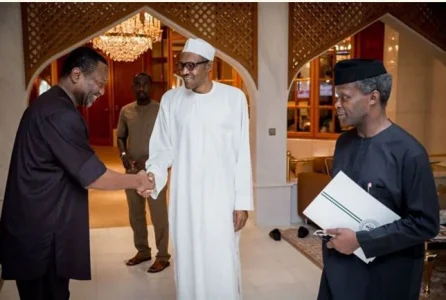 Udoma in his response said:
"I can't tell you the exact figure. I will have to get back to you on that."
"But you are the minister of budget", asked Asher.
Udoma later responded by saying that several committees were saddled with the responsibility of compiling Nigeria's debt and as such, he could not give a precise figure.
His response caused loud murmus from the audience during the session.
The Debt Management Office (DMO) Nigeria is a government agency established to centrally coordinate the management of Nigeria's debt.
The country's debt profile has risen by 4.17 trillion naira representing 34.41 percent under President Muhammadu Buhari,
recent data released by the Debt Management office revealed
.
Nigerian Senators had in Septemter called for the sack of Minister of Budget and National Planning, Udoma Udo Udoma and his counterpart, Kemi Adeosun by President Muhammadu Buhari for lacking the required expertise and professional qualifications in managing the economy.