Ekiti State Governor, Mr Ayodele Fayose has described the last six months of President Muhammadu Buhari's administration as that of "deceitful change," lamenting that the President was destroying the image of Nigeria and its people for cheap international recognition.
The governor, who also described the claim by the Minister of Finance, Mrs Kemi Adeosun that the ministry do not have details of any fund recovered from officials of the immediate past government of Dr Goodluck Jonathan as a vindication of his position that the President was not saying the truth, said Nigerians must ask the President where the so-called looted fund was paid and who made the payments.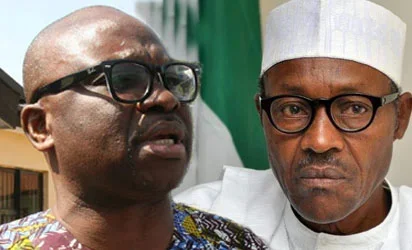 He said; "If the Ministry of Finance is not aware of any recovered fund, it is either those who purportedly made the refund did so by loading cash into Ghana-Must-Go bags and dropping the bags in the President's bedroom or the fund was lodged into the Central Bank without records.
Speaking through his Special Assistant on Public Communications and New Media, Lere Olayinka, Governor Fayose said "the only areas President Buhari has recorded tremendous achievements are areas of political persecution, disobedience of court order and desperate bid to turn the country to a one-party state as evident in the Kogi State election, which the Independent National Electoral Commission (INEC), headed by staged managed and muddled up."