President Muhammadu Buhari has once again celebrated and reiterated former president Goodluck Jonathan's role in the emergence of him an his party after conceding defeat during last administration.
The president who spoke at a press luncheon he hosted for State House Press Corps as part of the activities to commemorate this year's Democracy Day at the Presidential Banquet Hall, Aso Rock, however, regretted while the former president displayed a high level of patriotism by conceding defeat, his ministers did not share such a disposition with him.
"Jonathan's disposition on the phone that fateful evening when he personally called me to congratulate me on the election victory, even before the Independent National Electoral Commission (INEC) was done with the announcement of the results still baffles me," he said.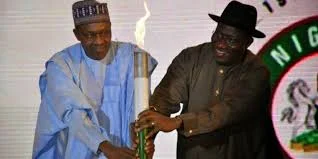 Buhari said he was shocked because for someone who was a deputy governor, a governor, a vice president and a president for six years to concede that easily showed Jonathan's "great sense of patriotism."
He recalled that another former military Head of State, Abdulsalami Abubakar, advised him to visit Jonathan for his "statesmanship and decision to save the Nigerian state."
Buhari also said Jonathan belonged to a party that was at the helm of affairs for 16 years and for him to still go ahead and concede "was definitely not an easy decision."
The President added that during the visit to thank Jonathan, Abubakar again advised that in order to smoothen the transition process, he, Buhari, should set up a committee to meet with the outgoing ministers of Jonathan to begin the process of handover at that level.
"Jonathan sincerely agreed to the suggestion and I got one of the best bureaucrats, in the person of Ahmed Joda, and told him to look round the country and come up with a team for the task.