President Muhammadu Buhari has warmly felicitated with seasoned diplomat, elder statesman and administrator, Chief Emeka Anyaoku, as he turns 84 years on January 18, 2017.
The President joined the diplomatic community, the Anglican Church, where he served many years as a chorister, and Chief Anyaoku's family and friends in celebrating the quintessential diplomat, whose distinguished international career attracted many national and international laurels, especially after serving as the third Secretary General of the Commonwealth.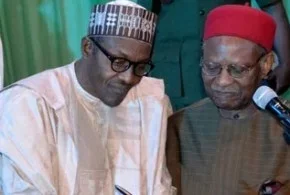 In a statement released by Femi Adesina, Media adviser President Buhari,said he believed Chief Anyaoku's footprints as a teacher, who was renowned for being very articulate and meticulous, and diplomat, during whose stewardship as the Secretary General of the Commonwealth apartheid was peacefully replaced by non-racial democracy in South Africa, will remain indelible for posterity to cherish and emulate.
As he turns 84 years, the President appreciates the enduring relationship he has enjoyed with Chief Anyaoku over the years, and the many wise counsels he has received, affirming that his title as the Ichie Adazie of Obosi in Anambra State is most apt as from early age he has shown a proclivity for ''keeping, and doing things well'' for his community, country and humanity.
President Buhari prays that God will grant the elder statesman more years of grace, good health and wisdom to serve his country, and humanity.