President Muhammadu Buhari on Wednesday explained why Nigeria is using "minimum force" in fighting Boko Haram insurgents, while addressing a special session of the EU parliament in Strasbourg, France,
Here are the four reasons why Nigeria is not coming hard on the Boko Haram militants...
- President Mohammadu Buhari said his administration was doing its utmost best to protect the fundamental human rights of persons in the theatre of operations.
- His government shared the European Union's commitment to ensure peace and security at all places in the country.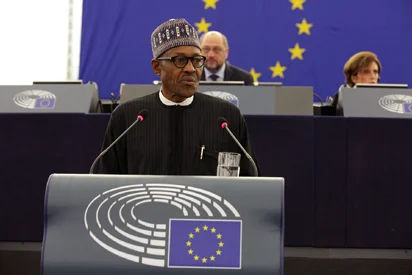 - Because of the Chibok girls that are still in Boko Haram captive, the President said he won't rest until the girls were rescued from their captivity.
- United Nation's respect for human rights, democracy and good governance, equality and tolerance, as ways of developing prosperous and strong societies.
- Also, Buhari said his government have updated rules of engagement in fighting terrorism and pay very close attention during operations to the treatment of captured terrorists, civilians caught up in the conflict and in general, safeguarding property.
"Our aim is to use minimum force necessary in our fight against terrorists," Mr. Buhari assured members of the parliament and the European Union Commission.