President Muhammadu Buhari has said that one of the best exhortations to the nation he has heard from the pulpit was the one made early this year by Father Ejike Mbaka of the Adoration Ministries, Enugu.
Receiving Father Mbaka who was on a courtesy call at State House, Abuja on Friday, President Buhari expressed his appreciation of the Catholic priest's exemplary courage.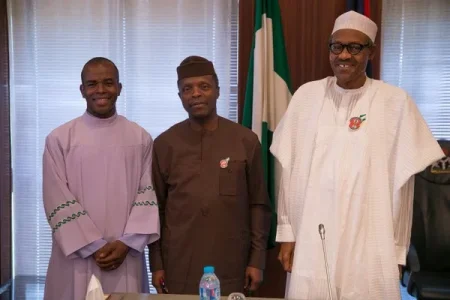 "Thank you very much for what you have done and said. It brought you out to the whole country as a man of courage. It was honest and well delivered. It has gone into the records as one of the best concerns expressed from the pulpit, not because it favoured me and my party, the All Progressives Congress, but because it was good for the country, " the President told Father Mbaka.
Vice President Yemi Osinbajo, who was present at the President's audience with Father Mbaka described the priest as a man "who stood for truth and propriety, and declared corruption unacceptable."