Nigeria -
Incoming president Muhammadu Buhari may commute the death sentences of 66 soldiers convicted for refusing to fight Boko Haram, prominent lawyer Femi Falana, told the BBC.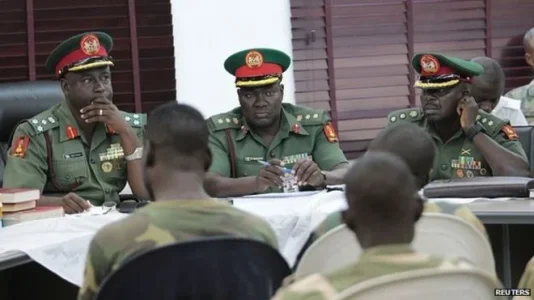 "They [the soldiers] did not sign to commit suicide but to fight for their fatherland and since the government did not make weapons available, they were unable to fight," he told the BBC's Newsday programme.
"The sentences are awaiting confirmation but we are taking steps to ensure that no soldier, no officer in Nigeria is executed on account of the negligence of the Nigerian state in motivating the soldiers to fight and equipping them."
According to him, the outgoing President Goodluck Jonathan "had refused to assist to the request of the convicted soldiers to review their matter".
"So happily the incoming government of Gen Muhammadu Buhari has promised to review the entire operations in the north-east region and we are confident that the cases of the officers and the soldiers will be reviewed so that justice will be done to them."
This week it was revealed another 579 soldiers face trial over indiscipline.
#Nigeria #Buhari