A cleric, Primate Elijah Ayodele of INRI Evangelistic Church, has cautioned that former President Goodluck Jonathan needs to be handled with care so that it does not boomerang as President Muhammadu Buhari's war on corruption thickens.
According to Guardian, the cleric stated that in view of the tremendous goodwill he enjoys for honourably stepping down during the last election and putting Nigeria on a truly democratic path that the world admires. Ayodele spoke on sundry socio-political and economic issues in his office in Isolo, Lagos.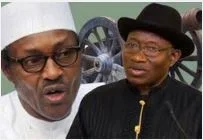 Although many of the former president's aides are mired in corruption allegations, Ayodele cautioned against politicization of the corruption war. While noting that although Buhari would expend a lot of effort on the corruption war, little would come out of it, as he might shoot his administration in the foot in the process.
According to Ayodele, "Buhari's government will make a lot of efforts in terms of fight against corruption, he may not make much progress. In fact, he might shoot himself in the foot. Buhari has to be careful with Jonathan; it may turn around and boomerang. His corruption fight won't go too far. In fact, Buhari won't be able to fight corruption as expected. In fact, corruption will weaken Buhari's government; it's not going to be easy for the president. It will cause inflation, prices of goods will go up, cost of living will rise and retrenchment will be rampant in all sectors. Life will be hard for Nigerians".