President Muhammadu Buhari and other ECOWAS leaders may have tactically taken Gambia's President-elect, Adama Barrow, into safety after a botched attempt to persuade President Yahya Jammeh to voluntarily cede power following his defeat in the 1 December 2016 election. Jammeh's tenure ends 19 January.
Both the ECOWAS and the AU have declared that he would cease to be the leader of The Gambia from 20 January.
Buhari flew out of Banjul with Barrow on Friday, en route to Mali, for what was called crisis talks in hopes of ending the nation's political impasse. Thousands of Gambians themselves are leaving the country over fears of a possible military intervention to resolve the impasse.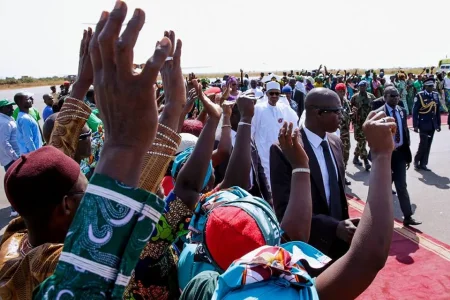 The Nigerian leader had led a three-nation delegation to Banjul earlier in the day, which Foreign Minister, Geoffrey Onyeama, admitted had not succeeded in getting Jammeh to step down.
Jammeh has made clear he will not stand aside until the country's Supreme Court decides on his legal challenge seeking to annul the results of last month's polls, which he initially conceded losing.
The Economic Community of West African States (ECOWAS), a 15-nation bloc, has repeatedly called on Jammeh to respect the result of the vote that delivered Barrow to victory and step down after 22 years in power.
"The ECOWAS team has decided to depart Banjul tonight in the company of president-elect Barrow headed for Bamako, Mali," Nigeria's foreign minister, Onyeama told journalists.
Ghana's former President, John Mahama, Liberian leader, Ellen Johnson Sirleaf, and Buhari have spent the last month attempting to cajole Jammeh into ceding the presidency.
Onyeama expressed West Africa's "determination to find a peaceful solution that accords with the constitution of The Gambia and also reflects the will of the Gambian people," and said this was best served by Barrow meeting representatives from all ECOWAS member nations.
- NAN