Governor Fayose of Ekiti State, urged the President to tell Nigerians the truth about the Boko Haram insurgency, saying, "They keep telling us that they have defeated Boko Haram technically while Nigerians are still being killed daily by Boko Haram, with over 100 people killed in Dalori, less than 12km to Maiduguri, Borno State capital.
"Isn't it now necessary for the President to fulfill his promise of leading from the front and getting his Information Minister, Lai Mohammed to go and hold a press briefing in Sambisa forest unguarded by military men so as to show to Nigerians that indeed, they have defeated Boko Haram technically?"
Fayose also advised President Muhammadu Buhari to respect the democratic principles of separation of powers by allowing the judiciary to do its job in proper prosecution of people accused of corruption.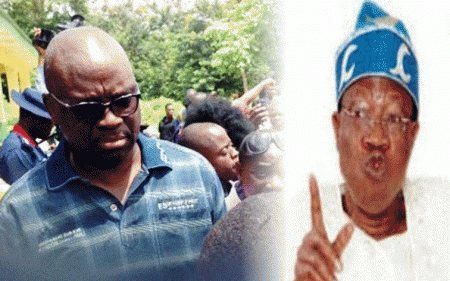 Fayose urged the President to stop castigating the judiciary and making the arm of government to appear as the stumbling block in his fight against corruption.
In a statement on Monday, by his Special Assistant on Public Communications and New Media, Lere Olayinka said President Buhari should have simply told the whole world that he hated the Nigeria Judiciary because he lost the petitions that he filed against his electoral defeats in 2003, 2007 and 2011, instead of hiding under the fight against corruption to ventilate his anger.
The governor, who said there was nothing wrong with the legal system in Nigeria, added that "in recent times, politicians like President Buhari are the ones responsible for the rot in the judiciary because of their desperation to use the courts to foist one party state on Nigerians with conflicting judgments from election tribunals."
- Vanguard