The Minister of Budget and National Planning, Udoma Udoma has said that President Muhammadu Buhari-led Federal Government will issue new oil licences as part of efforts to explore new streams of revenues to fund the 2017 budget.
Udoma made this known when he appeared before the Senate Joint Committee on Appropriation and Finance to defend the revised Medium Term Expenditure Framework (MTEF) and the Fiscal Strategy Paper (FSP) on Tuesday.
He said that the Federal Government would also review the current joint venture arrangements with oil companies, marginal oil fields as well as mount pressure on revenue generating agencies to surpass expected targets.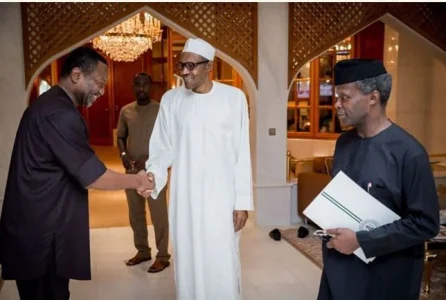 Udoma said a total of N10 trillion was being targeted by the Federal Government as revenue for the 2017 fiscal year.
According to him, out of this amount, about N5 trillion is expected to be generated from the sale of crude oil.
"Non-oil revenues will rake in about N5.06 trillion.
"These revenues are expected to come from corporate and company taxes, Nigeria Liquefied Natural Gas, Stamp Duties, capital gains tax and value added tax.
"Others are Customs, excise, fees, surcharges on luxury items, special levies and Federal Government independent revenue,'' he said.