President Muhammadu Buhari is set to relaunch the War Against Indiscipline and Corruption in his patriotic bid to wipe out corruption from Nigeria.
This was revealed by the Minister of Information and Culture, Alhaji Lai Mohammed at a meeting with the Broadcasting Organisations of Nigeria (BON) in Abuja last week, to enlist their support in the on-going war against terrorism.
It will be recalled that as a military Head of State, Buhari alongside Tunde Idiagbon launched a nationwide campaign called "War Against Indiscipline" ("WAI"). The WAI campaign was aimed at tackling the most anti-social Nigerian characteristics such as indiscipline, corruption, and lack of environmental sanitation.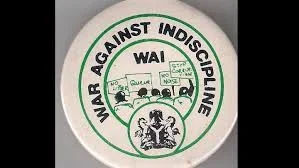 He further said the new attitudinal change programme was tagged "Change Begins With Me", adding that the National Orientation Agency (NOA), with offices across the 774 local government councils will be saddled with the responsibility of driving it.
He further explained that another campaign against corruption would also be unveiled shortly after the commencement of the "Change Begins With Me'' programme.