NIGERIA: Well, with a troubled economy and a nation engulfed in so many problems, it is quite difficult not to fall sick as a President.
Nigeria's President, Muhammadu Buhari is currently on vacation in the United Kingdom and has sought for an indefinite extension of leave to complete test and medical routine before returning home..
There have been speculations about whether he was physically fit for office even before he took power in May 2015, and rumours flying around of recurrence of what happened in 2010, when late President Umar Musa Yaradua was in power.
Late President Yar'adua on the other hand, was the 13th President of Nigeria. He served as governor of Katsina State in northern Nigeria from 29 May 1999 to 28 May 2007. He was declared the winner of the controversial Nigerian presidential election held on 21 April 2007, and was sworn in on 29 May 2007. In 2009, Yar'Adua left for Saudi Arabia to receive treatment for pericarditis. He returned to Nigeria on 2 May 2010, where he died on the 5th.
Here are seven similarities between the two Katsina born leaders, as compiled by
Nigerian Bulletin.
1.
State of Origin
: Muhammadu Buhari was born on 17 December 1942, in Daura, Katsina State, to his father Adamu and mother Zulaihat. He is the twenty-third child of his father. Buhari was raised by his mother, after his father died when he was about four years old while Yar'Adua was born into an aristocratic family in Katsina; his father, a former Minister for Lagos during the First republic, held the chieftaincy title of Mutawalli (or custodian of the royal treasury) of the Katsina Emirate, a title which Yar'Adua inherited.
2.
Endorsed by Olusegun Obasanjo
– Former President, Olusegun Obasanjo, Nigeria's former president, has publicly expressed support for the electioneering campaign of Muhammadu Buhari, a former military ruler and presidential candidate of the All Progressives Congress (APC) while yar'Adua highhandedly picked Umar Yar'Adua for the position of the President.
3.
Health Issues in office
- In May 2016, Buhari cancelled a two-day visit to Lagos to inaugurate projects in the state but he was represented by the Vice-President Yemi Osinbajo after citing an "ear infection" suspected to be Ménière's disease. On 6 June, Buhari also travelled to the United Kingdom to seek medical attention. This happened days after the Presidential Spokesman Femi Adesina was quoted as saying Buhari was "as fit as fiddle" and "hale and hearty", to much discontent and criticism from political analysts and followers.
Late January 2017, following what were described as "routine medical check-ups" in the UK, Buhari asked parliament to extend his vacation trip to allow him attend to medical issues and await test results.
President Yar'Adua left Nigeria on 23 November 2009, and was reported to be receiving treatment for pericarditis at a clinic in Saudi Arabia. He was not seen in public again, and his absence created a dangerous power vacuum in Nigeria. He returned February 24, 2010 under the cover of darkness. His state of health was unclear, but there was speculation that he was still on a life support machine.
Yar'Adua died on 5 May at the Aso Rock Presidential Villa.
4.
Vice Presidents take over in Acting Capacities
- On 9 February 2010, a motion from the Nigerian Senate invested Goodluck Jonathan as acting President of the Federation because President Yar'Adua went to Saudi Arabia in November 2009 for medical treatment which later claimed his life. The recent vacation trip of President Muhammadu Buhari makes vice President, Yemi Osinbajo acting President for the third time within two years of the APC-led federal government administration.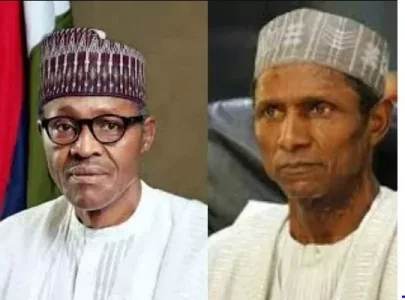 5.
Fulani - Tribe
– They are both from the Fula family also known as Fulani, one of the largest and a widely dispersed Muslim ethnic group in Sahel and West Africa. The Fulani are a group of West African pastoralists. They move over vast areas and come across many cultures known by different names, the Fulani are called Peul in Wolof, Fula in Bambara, Felaata in Kanuri, and Fulani in Hausa.
6.
Uncertainty Over Health Issues
: Like Yar' Adua's health which was shrouded in the clouds of uncertainty, President Muhammadu Buhari's vacation has been extended without a specific date of return over health issues and expected to get Doctor's node before returning back home
More mystifying is the fact that the duration of the extension was not specified.
The development has almost immediately given rise to more speculations and uncertainty, with some individuals already pointing at an uncanny parallel between it and the leadership drama that characterised the days of the late Umaru Yar'Ádua administration.
7.
Both Were Flown Abroad for Treatment:
Yar'Adua received health attention outside the shores of Nigeria and raised concern over Nigeria's health institutions. President Muhammadu Buhari is toiling the path despite allocation to the health industry and the Made-In-Nigeria or Buy Naija syndrome of taking the nation out of recession.
Recommended
: Don't Compare Buhari to Yar'Adua - Adesina