President Muhammadu Buhari-led federal government has assigned portfolios to all the 47 career ambassadors cleared by the Senate,.
A document seen, by DailyTrust listed the envoys and their portfolios as
Abia: Obinna Chukwuemeka Agbugba (Togo),
Adamawa: Salisu Umaru (Senegal),
Paragalda Ilyasu Audu (Turkey),
Akwa Ibom: Inyan Udo-Inyang (Gabon),
Anambra: Okeke Vivian Nwunaku (Spain),
Nonye Udo (Austria);
Bauchi: Liman Munir (Congo),
Benue: Ndem Jane Ada (Sweden),
Demenongu A. Agev (Equatorial Guinea),
Borno: Mohammed Hassan Hassan (Kenya),
Toko Ali Gongulong (Sao Tome & Principe),
Lawan Abba Gashagar (Mali),
Cross River: Martin Nyong Cobham (Thailand),
Odeka Janet Bisong (Zimbabwe),
Delta: Janet Omoleegho Olisa (Jamaica),
Edo: Itegboje S.Sunday (Permanent Mission in New York),
Queen I. Worlu (Cuba).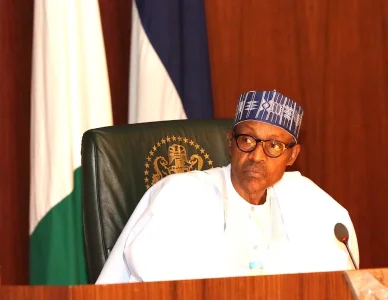 Others are:
Ekiti: Olatunde Adesesan (Angola),
Emmanuel Kayode Oguntause (Benin),
Enugu: Lilian Ijeukwu Onoh (Namibia),
FCT: Adamu Onoze Shuaibu (Rwanda),
Gombe: Manaja Tula Isah (Israel),
Habu Abubakar Gwani Ibrahim (Zambia),
Imo: Ngozi Ukaeje (Portugal),
Kenneth C. Nwachukwu (Cameroon),
Jigawa: Bello Kazaure Huessini (North Korea),
Kaduna: Enoch Pear Duchi (Ireland),
Kano: Garba Baba (Poland),
Rabiu Akawu (Algeria),
Katsina: Usman Bakori Aliyu (China),
Ibrahim Hamza (Iran), Kebbi:
Umar Zainab Salisu (Botswana),
Kogi: Momoh Sheidu Omeiza (Liberia),
Kwara: Kadiri Ayinla Audu (Permanent Mission, Geneva) and
Olufemi Abikoye (Ghana).
The federal government also assigned Nigerian mission:
Indonesia to Balogun Hakeem from Lagos,
Nasarawa: Inusa Ahmed (Ethiopia),
Niger: Ibrahim Isah (Australia),
Ogun: Bankole Adegboyega Adeoye (Belgium),
Sonaike Adekunbi Abibat (Philipines),
Osun: Ibidapo-Obe Oluwasegun (Port of Spain T&T),
Oyo: Ogundero Sakirat (Washington),
River: Eric A. Bell-Gam (Argentina),
Sokoto: Attahiru Halliru (Niger),
Taraba: Rahmatu A. Dunama (Burkina Faso),
Yobe: Musa Saban Mamman (South Sudan) and
Zamfara: Kabiru Bala (Mozambique).
Source: Daily Trust