President Muhammadu Buhari's health status caused disagreement among some members of the House of Representatives on Tuesday.
Lawmakers were debating a motion on an alleged harassment by 'Kwankwasia', a political group loyal to Rabiu Kwankwaso, a senator from Kano state.
The motion was sponsored by Aliyu Madaki, a lawmaker from Kano.
The legislators disagreed on the word "sickness" to describe the health status of Buhari, who has been away since January 19.
Alhassan Ado-Doguwa, chief whip of the house, had told the lower legislative chamber that the country was already under tension owing to the absence of Buhari, and that the Kwankwasia group was creating more tension by allegedly inciting people against the leadership of the state.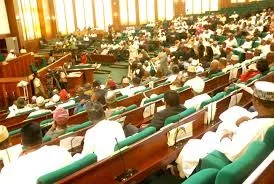 While describing Madaki's motion as "baseless", Ado-Doguwa, who sounded like a supporter of Abdullahi Ganduje, Kano governor, said: "Our beloved President is sick abroad.
"These partisan activities are completely unnecessary and baseless. The police must do their work of protecting lives and property anywhere in the country."
At this point, Gbajabiamila countered Ado-Doguwa, and told him to stop saying Buhari was "sick."
"The president is not sick. At best, he can say that the President is on medical vacation. There is a difference between being sick and going on a medical vacation," he said.
The lawmakers kept on arguing over the issue, until Dogara restored normalcy.
Culled from
The Cable