The Chief of Army Staff, Lt-Gen Tukur Yusuf Buratai has visited Troops in the frontline in Yobe state and charged then to re-stratigize operations against remnants Boko Haram terrorists.
This followed the directives of Acting President to the Service Chiefs to relocate the command and Control Centre to Maiduguri in view of recent upsurge in attacks by the insurgents where NNPC and Unimaid staff were ambushed.
Earlier, the Army Chief warned the troops that there is no time to rest yet, but to be resilient and focus to finish the war.
The COAS visited Goniri and Buni-Yadi Army formations, an area once annexed by Boko haram militants for two years before being liberated by military in March, 2015.
In the Nigerian Army Special Forces School Buni yadi, he took time to inspect some newly acquired equipments, weapon handling and firepower demonstrations by the troops, after taking part in their physical training and exercise.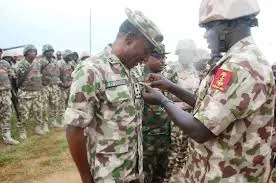 In the closed doors sessions the COAS had with the troops, The Director Army Public Relations, Brig-Gen Sani Usman Kukasheka revealed to newsmen that the soldiers expressed gratitude to the Army Chief for being with them in the frontline and promised to meet the dateline of capturing Shekaru dead or alive.
"They spoke about their welfare and willingness to sacrifice further to accomplish the dateline of capturing Shekaru dead or live", he said
One of the troops in Buni Yadi, Sgt Uche Ephraim, said the army Chief boosts their moral whenever he pays them a visit.
"I have been in the theatre since 2009 but whenever we see the COAS, our moral get boosted", he said.