Some officials of the Lagos State Environmental Sanitation and Special Offences Unit (Task Force) were weekend attacked by alleged miscreants during a raid on illegal abattoirs/slabs at Oshodi and Idi-Araba area of the state.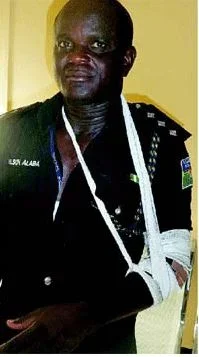 The officials were said to have been stabbed with cutlasses and broken bottles while two Toyota Hilux vans and a Black Maria belonging to the agency severely vandalized by the assailants.
The Public Affairs Officer of the agency, Mr. Taofiq Adebayo, who confirmed the incident, said Superintendent of Police, Supol, Wilson Alaba and a driver Mr. Adekunle Victor were among security back-up deployed by the agency to escort officials of Lagos State Ministry of Agriculture and Cooperatives during the raids.
The illegal abattoirs were considered not in line with the statutory standards as contained in the Lagos State Environmental Sanitation Laws.
According to Adebayo, the raid was sequel to information received of some illegal abattoir and slabs in operation around Oshodi and Idi-Araba.
The enforcement operations, that had successfully closed and sealed an illegal abattoir and slabs at Oshodi, however, met a stiff resistance from miscreants and operators at Idi-Araba. The rampaging miscreants and operators of the illegal abattoir at Idi-Araba in attempt to stop the team from carrying out the exercise came out in large numbers and attacked them.
Source: Vanguard