A 41-year old man, King Akpanke has been arrested by the police in Calabar for murdering his step-mother's lover over sexual intercourse.
The suspect who confessed to committing the crime in an interview with Tribune Newspaper at the State Police headquarters on Wednesday said before the unfortunate incident he had on several occasions warned the young-man to stop coming to his late father's house to have sexual intercourse with his step-mother.
Akpanke said he had no initial intention of killing him, adding he only acted in self-defense.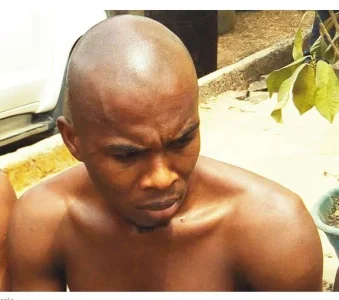 He said: "On that fateful day when we fought, he came to my house around 9 o'clock, he abused me and nobody was there in the house. The house belongs to my late father and I am the third son of my father. I was the only person in the house so when he started abusing me we fought, he brought a stick to hit me but I went inside and brought a knife and stabbed him on the head.
"So it was later discovered that he is dead. I am very sorry because it was a mistake. The young man was having constant sexual intercourse with my late father's wife. I warned him several times to stay off the house which belongs to my father but he refused he always comes there to have sex with her. He has been calling me all sorts of names like armed robber. He had always planned to kill me"
Source: Tribune