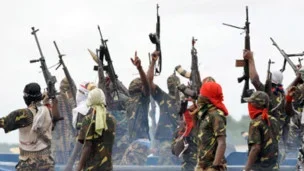 AS violence in northeastern Nigeria causes massive displacement, thousands of families have fled across the border into Cameroon where the United Nations World Food Programme (WFP) is providing humanitarian assistance despite insecurity and logistical challenges.
So far, according to the United Nations agency, about 650,000 people have been displaced from the three volatile states of Borno, Yobe and Adamawa in the North-East.
It is the first time that WFP has operated in locations so close to the border with Nigeria, where the security situation is volatile.
According to WFP, close to 8,000 Nigerians have fled since May into the remote northernmost region of Cameroon from the northern Nigerian states of Adamawa, Yobe and Borno. Local communities were said to have been providing food and shelter to the refugees, but food stocks were said to be running low and many of the newcomers, the WFP reported were already undernourished.
Click here to read more
Source: #Tribune