Cancer forces Nigerians to go abroad for saving their lives
Thousands of Nigerians have to travel abroad for medical treatment every year.
Local medical experts explain the popularity of
medical tourism
by poor equipment, shortage of staff and medical supplies at home. Lack of specialized facilities and other infrastructure, quality, and safety issues leads to a constant increase in demand for quality healthcare.
However the problem is much more complicated than the weak healthcare at home.
Cancer as the main healthcare problem in Nigeria
Over the years, cancer have become one of the major diseases affecting Nigerians. According to global incidence rate provided by the World Health Organisation (WHO), cancer is most prevalent here. The disease kills more Nigerians than HIV and Malaria combined.
From 100,000 newly diagnosed people with cancer annually, about 80,000 people will die. Cancer death ratio in Nigeria is one of the worst in the whole world.
The lack of healthcare at home is not the only reason why cancer situation is so dreadful. The problem goes deeper and here is why.
Poor survival rates can be attributed to a low level of cancer awareness among the population, ignorance of the symptoms, lack of awareness about risk factors and prevention of cancer. All these social factors are depressing additions to the pile of problems in the healthcare system.
For example, cervical cancer, which is now 100% preventable, kills one Nigerian woman every hour. Three common cancers (breast, cervical and prostate) kill 90 Nigerians every day.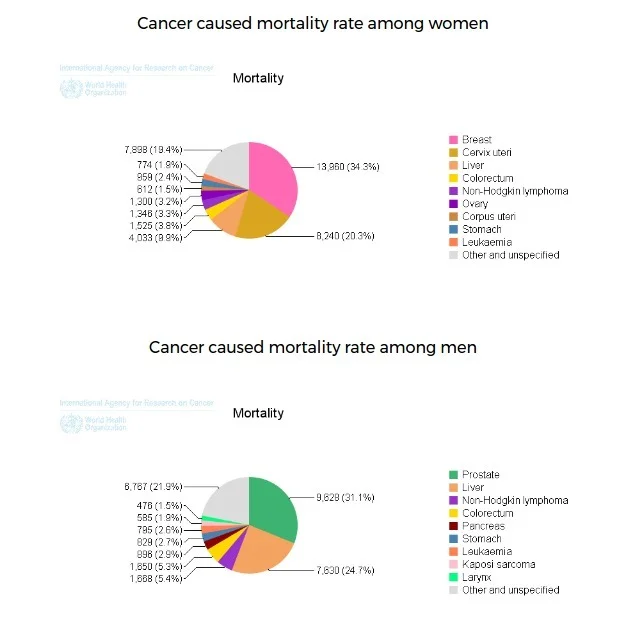 Apart from building cancer centers and educating more medical specialists, the government should also work on improvement of public awareness. And encourage people to seek professional care even if it means they will have to travel abroad to get it.
So, where do people get the help needed?
For the last year, Nigerians spend abroad over $100m on cancer treatment alone.
India, the UK, the US and countries in the Persian Gulf are the most popular destinations.
India is the most favoured country regarding medical tourism. About 50,000 Nigerians travel there annually, and 50% of them do it solely for medical reasons, spending on average $15,000 each.
And it is not surprising. Indian hospitals have experienced doctors, a modern technology available especially in diagnostics and the most importantly — low cost of treatment.
Local production of licensed analogues of drugs and dollar exchange rate make Indian high level medical care 10-17 times more affordable than in American and European clinics.
The large cancer centers here have a good quality-to-cost ratio, including:
Gleneagles Global Health City (Global Hospital) — one of the biggest world class clinics in India with two most advanced cancer treatment hospitals in Chennai and Bangalore.
Artemis Hospitals — an award-winning medical institution of world-class service at Gurgaon.
Apollo Hospitals — the largest medical network in South Asia.
India is not the only affordable option
India is no doubt one of the cheapest medical providers in the world. But it is not the only country with affordable prices and quality according to international standards.
What country and hospital to choose depends on many factors apart from obvious financial one. When it comes to life-or-death situation there are many things to account for. For example, here is an independent rate of
top-10 cancer centers in the world
comprised by Bookimed Medical Tourism Provider, includes Turkey, Israel, Germany, Italy and Spain as well.
Turkey is one of the world leaders in treatment success rates, innovations and renown doctors. All the cancer treatment techniques known in the world are applied here. Clinics have international accreditation and certification. The services there are a bit more expensive than in India but still considered to be one of the world's lowest.
Korea, Germany, and Israel are not in an affordable section, but if a patient needs exceptional medical help in complicated cases or treatment of a rare disease, it is worth the money.
Apart from oncological diseases, patients from Nigeria travel for health check-ups, treatment of cardiovascular disorders (hypertension, heart failure, stroke, arrhythmias, angina, etc.), renal transplants, neurosurgery, and eye treatment. Wealthier Nigerians (members of a higher class) are also interested in plastic surgery and IVF procedures (infertility treatment).