The Regional Episcopal Conference of West African Catholic Bishops has called for a modulated regional approach to tackle poverty and other challenges affecting the West African sub region.
President of the association, Most Rev. Ignatius Kaigama, was quoted in a statement at the end of a conference of the association as saying that violence and poverty had hampered the progress of the region, hence the need to find collective and lasting solutions to them.
Kaigama, who is the Archbishop of Jos, said "While we are urging Catholics to renew their faith, we are also concerned about diseases, corruption and all those things that draw us back," Kaigama said.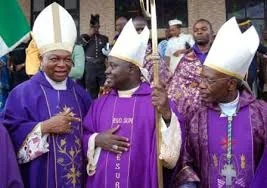 He said that the body which was the Catholic church's version of ECOWAS, was working with relevant stakeholders to see to the end of the challenges and that the body's recent meeting with the president of Ghana is pointer that there is hope in the sub region as other heads of government will be contacted in this regard.
The Catholic Archbishop of Abuja, John Cardinal Onaiyekan said the forum provided the opportunity to discuss how well the sub region could move forward as most of the problems cut across borders and seen as political.