The Senate President, Dr. Bukola Saraki, was worth $22m, £12m, €2.6m and N4bn in cash, movable and landed assets before he became Governor of Kwara State in 2003, his lawyer, Mr. Paul Erokoro (SAN), told the Code of Conduct Tribunal on Tuesday.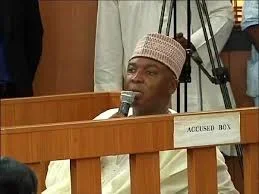 Erokoro said this while cross-examining the first prosecution witness, Mr. Michael Wetkas, in the ongoing trial of the Senate President.
Wetkas confirmed that there were 16 vehicles which cumulatively worth N263,400,000.
The vehicles are Mercedes Benz S320 valued at N16m; Mercedes S500 valued at N20m; Mercedes G500 valued at N6m; Mercedes V220 valued at N2m; Ferrari 456GT valued at N25m; Navigator valued at N15m and Mercedes MN240 valued at N8.5m and Peugeot 405 valued at N2.9m.
Other vehicles include, Mercedes CLK 320 valued at N9m; Mercedes E320 valued at N11m; Mercedes G500 bullet proof valued at N45m; Mercedes S500 valued at N30m; Lexus jeep bullet-proof valued at N30m; Linclon Navigator bullet proof valued at N25m.
"By my calculation the total worth is N263,400,000," Wetkas said.
He confirmed that Saraki's landed property was worth between N2.5bn and N3.5bn
He confirmed that Saraki's cash was worth about N50m.
He also confirmed that the total assets declared by Saraki including that of his wife and his two children under 18 in 2003 was worth $22m, £12m, €2.6m and N4bn.