Sir Alex Ferguson was named the best manager in the Premier League's 20-year history and Ryan Giggs won the best player award at a ceremony in central London.
Giggs did receive his award, which was given to him after he beat off competition from the likes of Thierry Henry, Paul Scholes and Dennis Bergkamp to clinch the vote from a panel of experts.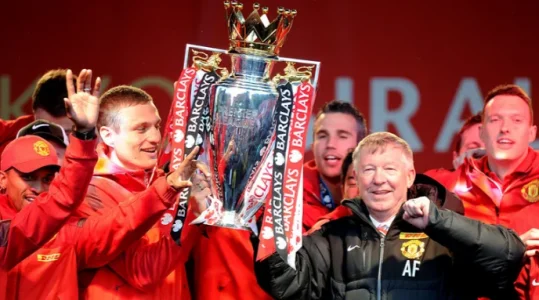 See full list of awardees below:
- Best Manager - Sir Alex Ferguson
- Best Player – Ryan Giggs
- Best Team - Arsenal's "invincibles", who finished the entire season unbeaten during the 2003–04 season on their way to winning the league title.
- Best Season - The 2011–12 season was awarded the Best Season after the title race reached the final few seconds of the final match of the season and won by a goal difference for the first time in the Premier League history
- Most Memorable Quote - Kevin Keegan's "I would love it if we beat them. Love it!", declared live on television by Newcastle United manager Kevin Keegan on 29 April 1996, was chosen as Most Memorable Quote by a panel of judges
- Best Save - Sunderland's Craig Gordon for his save against Bolton Wanderers at the Stadium of Light on 18 December 2010.
- Best Goal - Wayne Rooney for his goal against Manchester City at Old Trafford on 12 February 2011.
- Best Match - The award for Best Match went to the fixture between Manchester United and Manchester City at United's home ground Old Trafford on Sunday, 20 September 2009, which ended 4–3 to United after a stoppage time winner from striker Michael Owen.
- Best Goal Celebration – Eric Cantona The award for Best Goal Celebration for his nonchalant celebration after he chipped the ball over the advancing Sunderland goalkeeper Lionel Pérez at Old Trafford in December 1996.
- Most Appearances: Ryan Giggs was recognised for having made the most appearances in the first and second decades of the Premier League. While playing for Manchester United, Giggs made a total 598 Premier League appearances.
- Top Goalscorer: Striker Alan Shearer was recognised for having scored the most goals in the Premier League's first and second decades. While at Blackburn Rovers and then Newcastle United, Shearer scored a total 260 Premier League goals between 1992 and 2006.
- Most Clean Sheets: Goalkeeper David James was recognised for keeping the most clean sheets in the Premier League's first and second decades. While at Liverpool, Aston Villa, West Ham United, Manchester City and then Portsmouth, James kept a total 173 Premier League clean sheets between 1992 and 2010.[39]
- Premier League 500 Club: The award was given to players who have played at least 500 matches in the Premier League history. Those were, Ryan Giggs, David James, Gary Speed, Frank Lampard, Emile Heskey, Steven Gerrard, and Sol Campbell.[40]
Fantasy Teams of the 20 Seasons
Two Fantasy Teams were chosen, one by a panel of judges and the other by public vote. Nine players were selected by both public and the panel.
Public choice
Goalkeeper - Peter Schmeichel
Defenders - Gary Neville, Tony Adams, Nemanja Vidić, Ashley Cole
Midfielders - Cristiano Ronaldo, Steven Gerrard, Paul Scholes, Ryan Giggs
Strikers - Thierry Henry, Alan Shearer
Panel choice
Goalkeeper - Peter Schmeichel
Defenders - Gary Neville, Tony Adams, Rio Ferdinand, Ashley Cole
Midfielders - Cristiano Ronaldo, Roy Keane, Paul Scholes, Ryan Giggs
Strikers - Thierry Henry, Alan Shearer