Former Presidential Candidate of Alliance for Democracy (AD) and All Peoples Party (APP), Chief Oluyemisi Falae on Sunday was booed by the worshippers at the historic St. David's Cathedral Church, Ijomu street, Akure when he was explaining issues surrounding the massive diversion an dlooting of security funds traced to his account from the ex-National Security Adviser, Colonel Sambo Dasuki.
According to
Sharpedge News
,
Falae, amidst jeers and boos explained that one hundred million naira, which the former Board of Trustees (BOT) of Peoples Democratic Party (PDP), Chief Tony Anenih, purportedly paid to him was in no way connected to the NSA funds but to logistics for voters' mobilization in the alliance forged between the Social Democratic Party (SDP) and the then ruling party (PDP).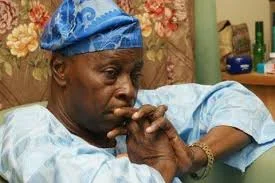 Chief Falae who is a regular worshipper at the church said that he had appeared on some media outlets to clear his name off the raging scandal, disclosed that he had furnished the Bishop of Akure Anglican Diocese, Right Reverend Simeon Borokini the trait papers on the transfer made to him by Chief Tony Anenih. He said a copy of the same document had been deposited with the Provost of the Cathedral, Very Revd Osotayo.
Source:
Sharpedge News