There was tension in Maiduguri, the Borno State capital, yesterday following credible information that at least 40 members of the Boko Haram terrorist group, among whom were teenage girls, had sneaked into the city with the intention of carrying out suicide bombings.
This was coming days after two separate bomb explosions masterminded by the Boko Haram terrorists rocked the city of Kano during the Eid-el-Fitri celebration.
It has been confirmed that teenage girls were used to ferry the explosions – one in a food flask and the other in a jar meant to contain kerosene – to the point where the explosives were detonated in the Kano State capital.
Click here to read more
SOURCE: #Leadership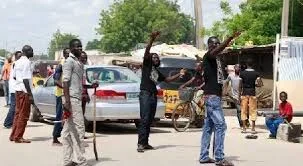 #Bokoharam #Kano #Maiduguri #Borno #Bokoharam